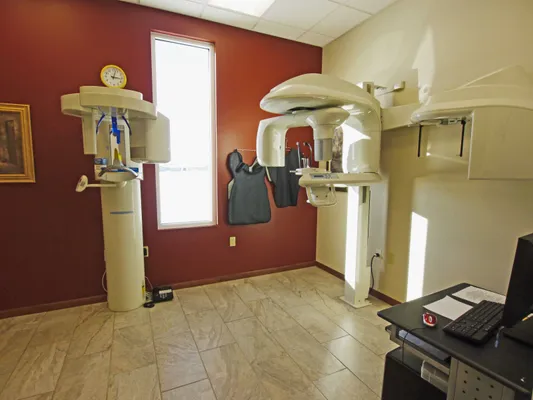 Kodak 9000C - 3D CBCT Scan
American Dental Solutions was the first general practice in the Missouri State to have its own Cone Beam CT scanner with CEPH. Cone beam CT technology has wide ranging applications particularly in advanced diagnostics in orthodontic, endodontic, TMJ and dental implant therapy. Our CT scanner CEPH provides us with three dimensional images of a patient's jaws, CEPH Tracing for Ortho and TMJ treatments and allows for pre-surgical virtual surgery resulting in precise implant placement. This allows us to dramatically shorten surgical time thereby reducing post-operative pain and swelling. In addition, teeth may be placed on the implants on the same day of surgery based on pre-operative computer planning.
In addition to its uses in implant therapy, our CT scanner is useful in planning jaw reconstructive surgery, trauma surgery, TMJ diagnosis and surgery, as well as complex pathology cases. Radiation exposure from cone-beam CT scanners is significantly less than from hospital grade CT scanners in fact, the amount of radiation exposure is often less than from a full-mouth dental series. CT scans performed in our facility are typically significantly less expensive than those performed in hospitals or imaging centers.
Because of the speed of acquisition of images, CBCT is used in a number of medical applications including:
Computed Tomography Angiography (CTA)
Interventional Radiography
Radiotherapy Guidance
Mammography
In craniofacial imaging, imaging applications have been identified by many groups such as:
Oral and Maxillofacial Radiologists
Oral and Maxillofacial Surgeons
Periodontists
General Dentists
Orthodontists
Prosthodontists
There are a multitude of indications for the use of CBCT maxillofacial imaging including:
Assessment of the facial bones for infection, trauma and congenital and developmental deformities
Quantitative and qualitative assessment of residual bone for implant osseointegration
Localization and identification of important anatomic structures such the inferior alveolar canal and maxillary sinus prior to maxillofacial surgery
Visualization of the status of the mandibular condyle and articulating components in the assessment of temporomandibular joint (TMJ) conditions.
Evaluation of sinus disease
Airway space analysis
The compact size and relatively low radiation dosage of the Cone Beam CT scanner makes it ideally suited for imaging the craniofacial region, including dental structures. With the increasing accessibility of Cone Beam CT imaging, this modality is emerging as the imaging "standard of care" for the number of diagnostic assessments of the bony components of the face.